'It Was Literally Raining Men': Miami-Dade Lawyers Secure $1.2M Settlement Over Fall From Truck
It was a lawsuit that alleged missed opportunities to tighten safety measures and featured a battle over whether pli lawyers could attend a medical evaluation conducted by the defense.
By Raychel Lean I October 01, 2020 at 02:36 PM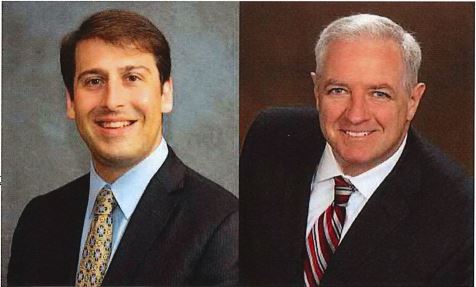 Christopher Drury.left, of Dimond Kaplan Rothstein and Todd Wallen.right, of Wallen Kelley. Courtesy photos.
A man who fell face-first onto concrete from the top of a tractor-trailer in Doral has secured an almost $1.2 million settlement from three South Florida companies, with the help of attorneys Christopher Drury of Dimond Kaplan & Rothstein in Miami and Todd Wallen of Wallen Kelley in Coral Gables.
It was a lawsuit that alleged missed opportunities to tighten safety measures and featured a battle over whether plaintiffs lawyers could attend a medical evaluation conducted by the defense.
Plaintiff Leonardo Viera was injured in 2015 after reluctantly agreeing to help his girlfriend with a one-off haul for her trucking company, P&A Transport Corp. ,which was short on drivers.
Big Dog Express of South Florida Inc. commissioned the job, which involved taking a tractor-trailer covered with tarpaulin and full of metals to be processed at a Doral facility owned by Covanta Dade Renewable Energy LLC.
But vyhen Viera arrived, he found a piece of wire was caught on the tarpaulin – meaning he couldn't properly remove it. Viera claimed he did what his girlfriend usually instructed truckers to do: climb on top of the load to untangle the wire.
And while there's usually a "tarping station," where truckers can use platforms or lifts to access tarpaulins, this Doral facility didn't have one. That, the plaintiffs team claimed, left their client in a dangerous predicament.
"He's not walking on a flat surface on top of the truck," Wallen said. "He's walking on a pile of scrap metal and trash. He's almost a 60-year-old having to balance precariously 15 feet high.
" Viera fell, fracturing his skull, ribs, elbow and multiple areas of his face, and suffered air on the brain. He retained Drury and Wallen two years after filing suit.
As Viera was a former trucker and served in the military in Cuba, his new attorneys reasoned some orthopedic injuries could potentially be explained away. So they hired a neurologist, who discovered memory, speech and IQ issues.
'We really took the brain injury aspect of the case and we ran with that," Drury said. "And from no offers whatsoever before we were involved, slowly but surely, we got the attention of the defendants."
The lawsuit accused P&A Transport, Big Dog and Covanta of negligence.
The plaintiff also obtained sanctions (https://drive.google.com/file/d/1WK4jXJ71P9oMVUYbfVzRshkAHH_t_olE/view?USP=sharing) against Covanta for failing to prepare its corporate representatives for deposition. And though its head of safety was reportedly well-versed in the case,
Drury and Wallen said they couldn't get access to him.
Covanta's attorney is Michael Mullen of Gaebe Mullen Antonelli & Di Matteo in Coral Gables, while Bruce Trybus of Cooney Trybus Kwavnick Peets in Fort Lauderdale represents P&A Transport. Jeffrey Johnson of the Johnson Law Group in Boca Raton teamed with Michael Paris of Conroy Sim berg in Hollywood to represent Big Dog. They did not immediately respond to requests for comment.
The defendants denied liability and argued Viera should never have climbed onto the truck. They also claimed his injuries weren't severe and noted he waited years to get neurological treatment.But the plaintiff countered their client initially couldn't afford treatment without workers' compensation and argued he wouldn't have climbed up if there were a tarping station.
And a separate dispute emerged when Drury and Wallen moved to attend and videotape the defense team's neurological evaluation – which the defendants argued would throw off the results. But when Miami-Dade Judge Jose Rodriguez allowed it after multiple hearings, the defense dropped the idea altogether.
'Raining men'
Viera wasn't the first to get hurt, according to Wallen, who said others had fallen from Big Dog's trucks and at least one sued.
"It was literally raining men at Big Dog and they were not doing anything about it," Wallen said. "They had multiple people falling from the sky."
Drury said he felt Big Dog's corporate representative made a powerful admission during a deposition, when he acknowledged Covanta had since added a tarping station but said he didn't think it made the facility any safer. However, Drury said the representative also sent a memo to Covanta taking responsibility for the incident and pledging to hire a safety professional.
"What they did in response was put in a tarping station," Drury said. "The fact that he did not admit that it made the facility safer opened up the door for us to bring that into evidence at trial, because you can't say that it's a subsequent remedial measure if it didn't make the facility safer."
Covanta also claimed it added a ladder after the prior lawsuit, but Wallen said that was missing from photographs and a representative couldn't say where it was on the day.
"Well, where was it?" Wallen said. "And where was the sign telling people to use it? Where was the guard at the security gate directing you to the ladder if you need it?"
And though the plaintiff and the defendant were no longer a couple, their relationship added an unusual dynamic to the litigation.
"It was kind of a rare situation where the defendant testified to the extent of his injuries, because she was his girlfriend," Wallen said. "It was kind of strange to have a defendant there testifying to the extent of the injuries."
Covanta agreed to settle the case for $950,000, while P&A Transport and Big Dog agreed to pay $120,000 and $100,000, respectively, for future medical expenses and pain and suffering.